In what has to be one of the best nights of our lives here at Introversion, Darwinia picked up three seperate awards at the IGF conference in San Jose this week including the Seumas McNally Grand Prize. Quite frankly we couldn't believe it was happening as our game was picked again and again in consecutive votes. Darwinia also won "Innovation in Visual Art" and "Technical Excellence", and earned us a cool $25,000 in prize money. We were also nominated for "Innovation in Game Design" but lost out to a fascinating looking game called Braid.
We were all dressed in tuxedos for the event (its an awards ceremony!) and we managed to keep the acceptance speeches down - Mark delivered an awesome comment in the Grand Prize speech that got about 30 seconds of sustained applause from the massive crowd. We threw box loads of rubber Darwinians into the crowd and it felt awesome to be up there. We were ambushed on the way back to our table by an MTV film crew and a slew of reporters, all wanting to know just how drunk we really were.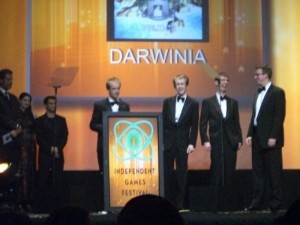 Our biz trip in America actually lasted for ten days, wth us starting out in Seattle then flying to San Francisco and eventually on to San Jose. We're planning a full write-up of the trip for the IV site soon - we just have to share some of these photos and some other things happened while we were out there.
On a seperate point of debate, there were some rumblings from some of the judges and other indie developers (we know who you are!) suggesting that Darwinia did not qualify as an Independent Game and should be excluded from the competition. Much of the reasoning seemed to be that Darwinia was now commercially successful thanks to a Steam distribution deal. Firstly in order to say that a game is or is not "Indie" you need a definition of the term, and the IGF rules offer no such definition that we can use. Indeed Half Life 2 would have been eligable - funded internally by a privately owned dev company who owned all the IP, and then distributed digitally online direct to consumers. We don't pretend to know what the definition of "Indie" is, but we believe any definition that rules out Darwinia is worthy of immediate dismissal - four guys working from their bedrooms for three years including 18 months of open experimentation, funded by real-world jobs and bank loans, releasing a game that is entirely their own creation and property - Darwinia's development IS the definition of an Indie Game. To suggest that signing a deal with the Steam system six months after launch somehow strips Darwinia of its Indie status is bordering on ridiculous.