In watching the Alpha 3 release video, you can clearly hear Chris lay down a challenge to see how many CCTV cameras one guard can monitor, so let's find out...
First of all - what do we know about CCTV Monitors:
- They have a 3x3 grid that a guard must be inside of
- They have a limited time period where the guard can be elsewhere and not looking at them.
- This countdown period lasts 30 seconds.
- Each CCTV Monitor allows you to control 3 CCTV cameras.
So, obviously I first started by lining them up. It takes a guard an average of 15 seconds to walk 9 squares (3 CCTV Monitor banks). Add in those monitors that are exactly opposite and so take up no more of your guards time - and you have a line of 6 monitors, resulting in 18 CCTV cameras. Stick a monitor at each end facing toward the guard, and you can just about squeeze in 8 monitors (24 functional cameras).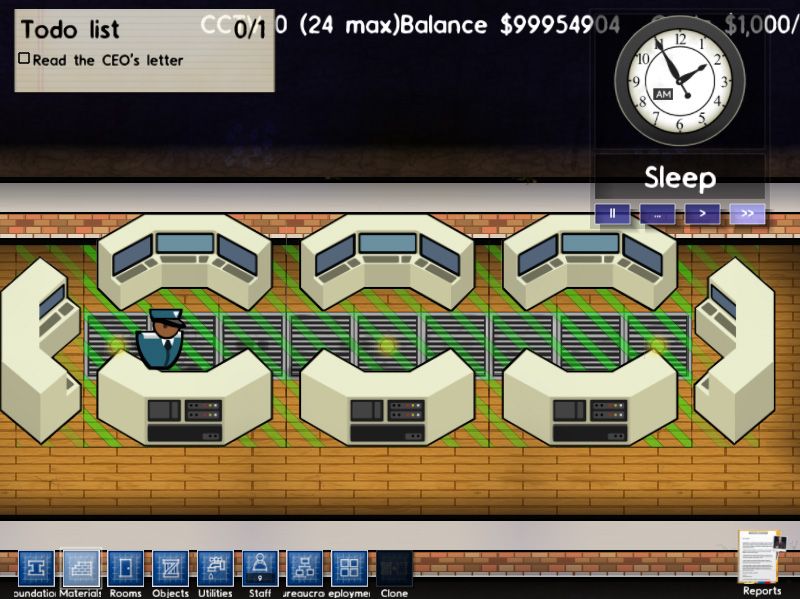 However, I was sure I could do better than that.
Keep in mind, that the guard is making the journey once, but then he doubles back and atleast half of his return journey is wasted because he's already seem those cameras. What I wanted was a more indirect approach, that would allow me to see more, whilst continually moving.
The result of that was a circle of monitors, with two monitors in the middle, giving me a very acceptable 30 operational CCTV cameras.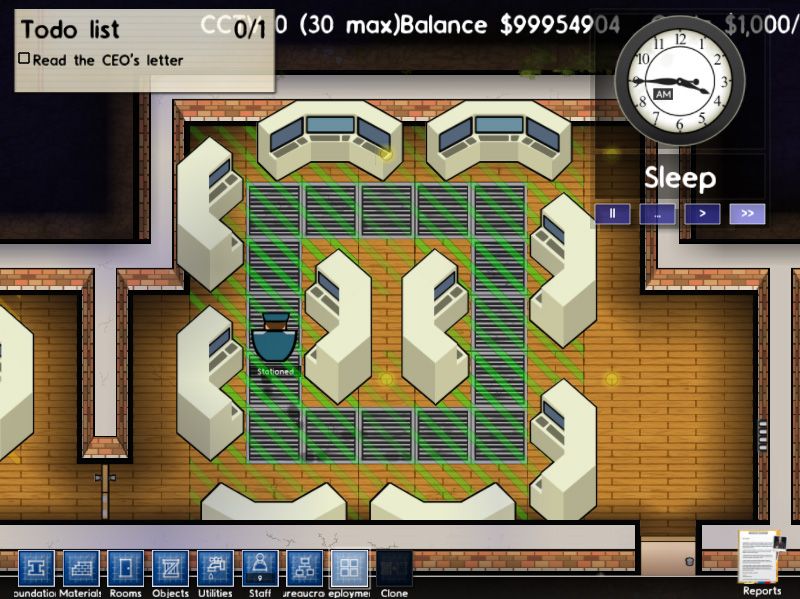 For what it's worth, the metal flooring acted as a good way to demonstrate my patrol route, but it also supposedly has a walk speed of fast. I didn't really see them walking that much faster, but every fraction of a second counts...
That previous picture looked a little bit lopsided and unsymmetrical to me however, so I figured I might as well push it to see just how far I could go... By making my room a little bigger, I could fit two columns of 3 on each side, two rows of 2 at the top and bottom, and a square of 4 monitors in the middle, making a total of 14 monitors. Unfortunately my guard was a second too slow to allow him to see the full 42 cameras, however he was able to see 36 cameras, and was only two or three steps behind the cameras as they deactivated. In terms of efficiency, I think this is probably as far as he can go on his own.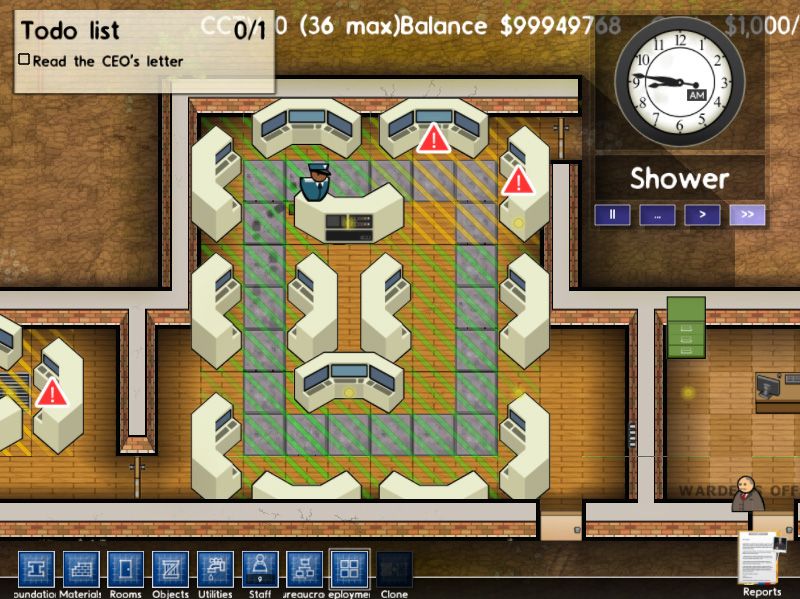 The question is... can we get any more? (without abusing the CCTV monitor bugs
)
---Update---
Wanted to keep it all neat and tidy, so here we go. Someone on Twitter (one of you... probably... who knows who anybody is any more?) pointed out that if I put a monitors directly behind one another, the 3x3 square grid still works on my guards patrol route. Strictly speaking I find this a bit hacky, due to the fact that it's possible to overlap CCTV monitors at the minute, which means they could either take up 1 square or 2 squares in depth (the sprite helpfully takes up 1.5 squares).
Still, It is possible, and we can just pretend that they're raised to allow him to see over the top of the previous bank of monitors
That makes the current record 63 cameras, or 21 CCTV monitors.