Defcon has won the IGN award for "Best Artistic Design", in their "best of 2006" article. Here's a quote:
"Good artistic design doesn't always mean packing in the most details or most effects. While many titles manage to get noticed by upping polygon counts and complex rendering technologies, other titles can wind up doing more with less. Such is the case with this year's winner, DEFCON. Introversion's game of nuclear-powered mutually assured destruction may not have the most impressive technical effects ever, but the overall design of the game is the most effective we've seen this year."
Defcon was also the Runner Up in "Best Strategy Game", "Best use of Sound" and "Best Online Game".
Read the full article
here.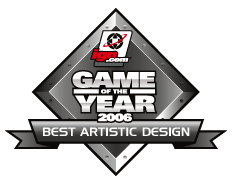 In addition to this, Defcon has come in at Number 21 in Next Gen's top 50 games of 2006.
"The real-time strategy DEFCON is equal parts stark, tense, disturbing, and paranoia inducing. Best of all, it has guts enough not to sugarcoat things by making it seem like this kind of conflict is anything but a dead-end."
Read the full article
here
.
UPDATE: Defcon is also the runner up in Edge Magazine's "Best Audio Design" category in their 2006 awards (in which I believe Darwinia was runners up last year).